Our Story
We started beqom in 2009 with a mission. A mission to make all the people of the world's largest enterprises happy with our compensation solution.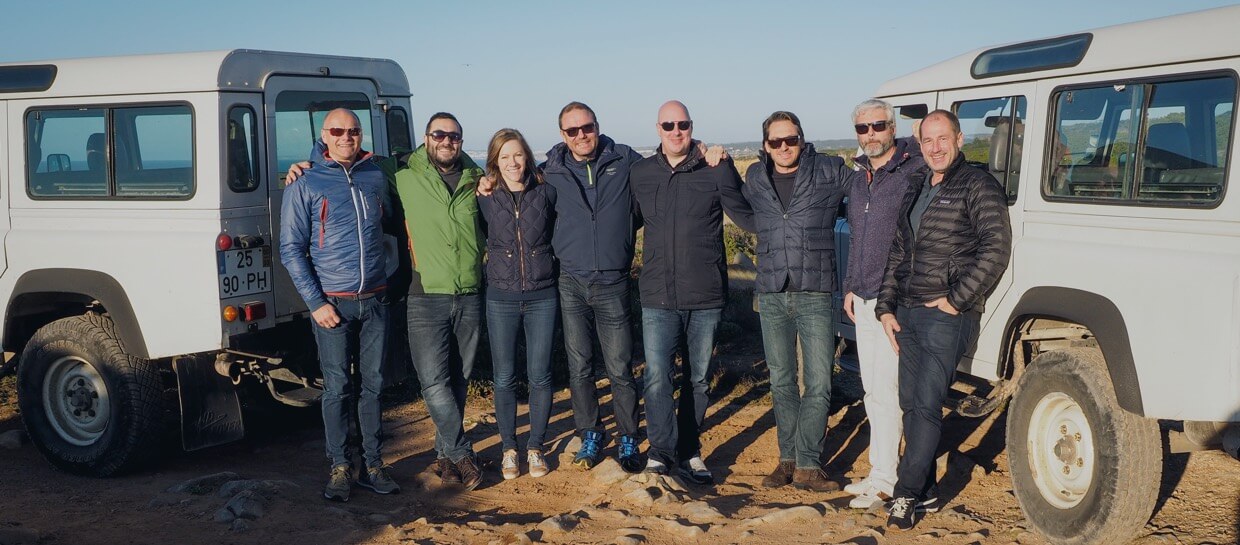 In 2007, while working at SAP, we realized a huge gap in the enterprise software market. Companies like SAP, and their customers were not able to automate their compensation processes across one integrated solution.
Most large organizations leverage as a strategic differentiator, yet they were still managing compensation on spreadsheets or dated custom built solutions. This is when we realized we were facing the biggest market opportunity we had ever seen during our careers, which led to the creation of beqom.
Today, we manage compensation for over 150 large enterprises across the globe - in individual terms that's about 3 million people that have their compensation managed by beqom.
Why beqom
Our mission is to make your people happy, because employee happiness is the best driver for success.
But happiness doesn't come from paying your employees more money…It comes from making sure they understand:
The company direction
The link between their individual goals and the overall company strategy
How they are rewarded and recognized for achieving these goals and if it is fair
Our Total Compensation Platform provides this level of understanding to your employees.
Management team
Truly global — we have eight different passports in our nine person management team.
Fabio Ronga CEO
Fabio's main objective is to make the people at beqom happy. He drives the company strategy and makes sure everyone understands it and is equipped to contribute to it. If the people at beqom are happy, we significantly increase our chances to make you and your people happy.
Coming from SAP, Fabio spent his career creating, marketing and implementing innovative enterprise software in North America, Europe and Asia.
Linkedin
Yves Steinhauser CFO
To help you make your people happy, we need a clean, efficient and self sustaining organization. Yves' role is to be sure that we have the finance, the people and processes to offer you the best experience with us and be an easy organization to do business with.
Coming from SAP, Yves spent the first half of his career at Arthur Andersen and BearingPoint before joining the software industry.
Linkedin
Stephan Pohl COO
Stephan puts all of his passion for perfection in creating the best operations to make your people happy. His team is in charge of the development of our platform, in constant interaction with our customers and the market and he is also in charge of our worldwide sales organization.
Coming from SAP, where he spent 12 years, Stephan has a deep experience of large software organization, allowing him also to effectively manage our relationship with Microsoft.
Linkedin
Tanya Jansen CMO
Making the link between you and beqom's platform is at the heart of Tanya's day to day activities. Her role is to communicate what beqom can do for you and how beqom can best address your needs to help you make your people happy.
Coming from SAP, Tanya spent the last 10 years defining and communicating enterprise solutions to large companies worldwide.
Linkedin
Nurettin Sendogan CTO
Security, Cloud operations and new technologies are the areas of Nurettin. He makes sure that your data is safely handled with state of the art technologies.
A mathematician by trade, Nurettin spent the first half of his career at Microsoft. He then made his first entrepreneurial move during which he successfully developed and marketed new solutions for large enterprises.
Linkedin
Joost Hoppenbrowers Head of Services
Joost's focus is to ensure our customers are making their people happy by using beqom.
His organization is also running the platform for you: you just have to focus on making your people happy and Joost and his team take care of the rest.
Coming from SAP, Joost spent the last 10 years managing software implementations at very large companies.
Linkedin
Michael Mors Head of Sales EMEA
Michael brings leadership and structure to the European sales team. Selling mission critical solutions to large, global enterprises requires exceptional skills, good organisation and stellar follow-up. Having lived in Germany, Switzerland, Italy and England, Michael understands and is sensitive to local cultures and requirements.
Coming from Unit4 and previously SuccessFactors, Michael has spent most of his career building growth strategies for software companies in the European region.
Linkedin
Jean-Luc Solans Head of Sales US
Jean-Luc leads the US sales team with a passion to provide the best solutions for large and demanding companies. Having lived in Europe and the US, his experience is key for global companies and large-scale projects. Jean-Luc's motto for long term success in the SaaS world is to build and motivate sales teams with the same focus and dedication given to customer satisfaction.
Having previously worked at Talend and Oracle, Jean-Luc spent the last 20 years in California growing revenue for innovative SaaS companies.
Linkedin
François D'Haegeleer Head of Business Development
Francois's mission is to help extend the benefits of beqom to more global 5000 companies, by developing and enabling a network of strategic partners around the world.
Francois brings over 20 years of international experience in the enterprise software industry in the US and Europe running Product Marketing, Sales and Business Development.
Linkedin