SPM for large enterprises
beqom is an enterprise wide solution designed by sales performance management (SPM) experts. beqom has proven to scale the needs of large enterprises, without compromise, resulting in a 100% retention rate and happy customer base.
Sign up for a demo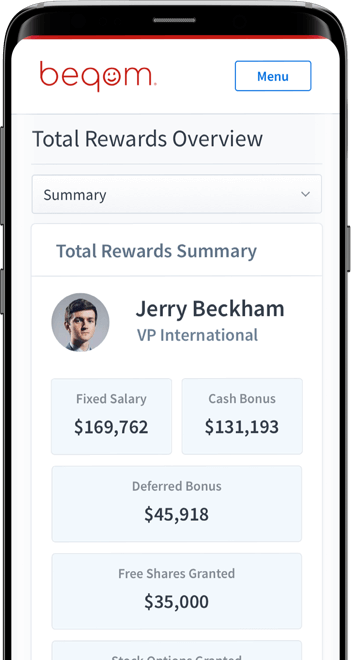 Establish trust in your SPM system
An effective SPM solution isn't just about arriving at an end result for a given sales incentive; it's about providing a solution that can effectively address the many moving parts and complexity of a competitive sales incentive strategy. All in a fully configurable and transparent manner.
Our SPM solution helps you implement and automate your sales strategies, without limitation, providing full transparency, traceability and auditability of what you define, earn and pay as part of your sales performance process.
Find out more
Lead, align and motivate your sales
Make sure sales understand the link between their individual role and the company strategy with real-time access to transparent sales performance, earnings and payments.
$300bn
In compensation managed
In the hands of Sales
Wbeqom enables you to take control of your sales operations and make better strategic decision. Ensure your sales plans continue to align with your organizational strategy. Resulting in:
Improved Performance

Happy employees are motivated and committed, driving greater efficiency and productivity

Increased Efficiency

Process centralization & automation leading to significant reductions in time and costs spent on process administration while providing a clear picture of all compensation and performance elements

Trust

Full transaction detail with built-in automatic stamping of any change from transaction to payment, enabling full transparency, auditability, and traceability, eliminating most disputes, and ensuring clarity and trust in the SPM solution

Increased Retention

Employees have a clear picture of their total compensation, how their performance is linked to their compensation, and if it is fair

Compliance

Internal & external process compliance, transparency, and auditability, protecting them from costly regulatory fines (ASC 606, CRDIV, SEC)
Driving sales and happiness at some of the world's largest enterprises
Success Stories
Leveraging beqom's platform, TIM transitioned to an integrated performance and compensation solution, taking their sales commissioning from Excel & Access to a centralized platform designed to automate their multi-channel SPM processes.